Fun Run for Schools Fundraiser
Fun Runs | Colour Runs | Mud Runs | Obstacle Runs | Athons … it's your choice

With a Go Raise It fundraiser you will get a custom built online fundraising website with real time team and individual leader boards and our full end to end support.

Our fees are industry leading, they are fully inclusive including all card/platform fees with no surprises at the end of your fundraiser !

"It was great to work with the Go Raise It team. We raised funds beyond expectation and the students enjoyed the spot prizes we regularly promoted. The ease for sponsors to donate from both Australia and overseas was great"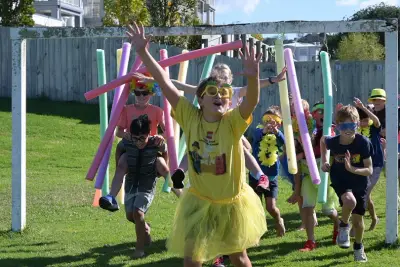 No upfront costs and you receive 90% of your total funds raised*
Why should we run a Fun Run for our school fundraiser?
A fun run is a great way to promote physical activity in Australian schools with a fantastic event day to celebrate at the end of your fundraising. They're also a good way to raise funds for school programs that benefit all children.
Go Raise It school fundraisers are easy to run with the support of an experienced Go Raise It Campaign Manager to work with you and they can be organised by the school as a completely new event or you can even turn an existing school event like a cross country into a Fun Run fundraiser.
If you are looking for an fundraising option for your school then take you school fun run online and supercharge your success with Go Raise It's online fundraising platform.
What are the steps involved with running a Fun Run in our School?
1. Contact the Go Raise It team and we will assign your very own  Campaign Manager to assist with your fundraising. They will have lots of fundraising ideas and ways to use incentive prizes to boost your fundraising success. 
2. The Go Raise It team will build a customised fundraising website using your images and school colours. We will work with you to fine tune your "why" for fundraising – this will maximise your fundraising success.
3. Your Go Raise It Campaign Manager will work with you to define the key dates for your fundraiser and create your own campaign plan.
4. Launch your online fundraising website to your school community using Go Raise Its hints and tips for success
5. Get fundraising and watch in real time the total donations and team totals on your online fundraising website.
6. Organise and hold your Fun Run at school.
7. Go Raise It pays out your fundraiser profits – our fees will always be 10%+GST of the total donations received – that is fully inclusive of our full service and includes all credit card and platform fees. You will always know exactly how you are doing at any point in your fundraiser as you can see the real time totals on your website – there are no surprise extra fees – we have kept it simple and easy to understand.